Our Mission: Helping nonprofits and funders create aspirational yet achievable strategies by learning how to respond to competition and the society around them.

About The Intelligent Nonprofit
We created The Intelligent Nonprofit to fill an unmet need within the nonprofit arena: To intensely examine and learn from the competition.
By learning from the competition, you can stand out from the competition. In recent years, social entrepreneurs and their nonprofits have worked mightily to improve impact for clients and stakeholders. This requires a great deal of soul searching, clarifying goals and creating useful metrics.  For most nonprofits this usually consists of self-examination. Consequently, it becomes an internally focused exercise and ignores competitive activity in the outside world. 
Nonprofits need to do more than conduct a field scan, a review of the social service landscape. They need to go a step further and be able to argue and stress-test their strategy against other nonprofits. 
Leonard Fuld has run countless strategy workshops that have dramatically changed the paths and directions of Fortune 500s. Such exercises can have the same effect for nonprofits and funders.
"Leonard Fuld…the undisputed dean of competitive intelligence."

– Fast Company
Leonard Fuld has worked with clients in markets ranging from high technology, pharmaceuticals, medical devices, to consumer goods and retail. His research has assessed competitive weaknesses, as well as uncovered potentially missed opportunities. He has run strategy events and war games that have helped clients better compete in complex, fast moving markets. 
Working with nonprofits and their funders, Mr. Fuld has successfully applied these same research and strategic gaming techniques to the nonprofit world.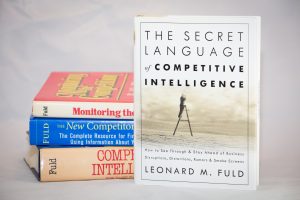 As a pioneer in the field of competitive intelligence and the author of four books, Leonard has helped shape company strategy, improving competitive position for his global clients.