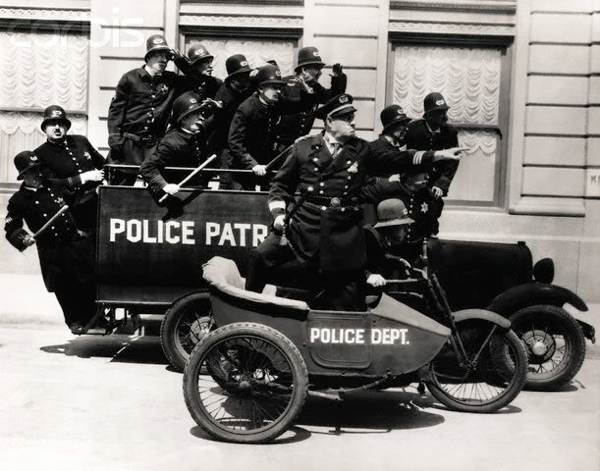 Education nonprofits, here's your summer homework: Learn to play in the same sandbox.
Why don't more nonprofits collaborate? Why can't they play nicely in the same sandbox, just like we teach kids to do?   
Collaboration can be tough for mission-driven, highly independent nonprofits.  All too often I have seen sandbox squabble rather than sharing among nonprofits.
Improving literacy among inner-city children is where nonprofits have become a vital resource to supplement federal and local school aid programs.  According to a recent study by EdBuild, an education funding think tank, there's a funding shortfall in inner-city, mainly nonwhite school districts.   Add to the funding shortfall is a growing nationwide teacher shortage, predicted to worsen in the coming years.  This is the perfect time to preemptively launch a nonprofit for underserved students to help them learn to read.
Keystone Kops are here
Apparently, social activists in cities around the United States have heard about this profound need and have answered the call.  So much so that in urban areas, such as Boston and New York, hundreds of nonprofits have sprung up over the last three decades.  Each has its own methods and passion to improve the world.
They pound on school doors, offering the same or similar services in the classroom, at community centers, and even in the home. Notably, many are funded by the same foundations!  The result: Individually, each organization scrambles for funding, seeks help from a scarce pool of volunteers, but often is just able to deliver one piece of the solution.
Given this Keystone Kops image of too many agencies crowding through school doors, all asking for money from the same funders to deliver the same or similar services, collaboration makes sense.
Easier said, than done.  And, how exactly can you make it work?
It must begin with the funders and their big, impactful vision.

Pinkerton's approach to collaboration
In 2014, The New York City-based Pinkerton Foundation awarded $1.3 million in grants to help underwrite a major literacy program for the city's children.  The program was called, The READS Initiative. Its plan was to coordinate as many as a dozen agencies already serving various neighborhoods, in order to reach more kids and improve literacy.  READS' goal: To get children to read on grade level by increasing reading hours. READS also gave children greater access to books, as well as added time with volunteers who to serve as tutors and adjunct teachers.  
All this seemed to make sense.  Getting the program off the ground, however, proved challenging and somewhat costly.
Danielle Pulliam, a program officer for the Pinkerton Foundation's literacy portfolio was assigned to READS. When she first met with many of the Pinkerton-funded agencies in 2013, she discovered the overlap and duplication.  Many were targeting the same schools with similar services.
"It was eye-opening," she commented.

Encountering suspicion and distrust
She soon learned that encouraging the dozen Pinkerton-supported agencies to play nicely with one another required a change from a climate of suspicion to one of alliance, cooperation, and eventual partnership.
"At the beginning of this first meeting," said Pulliam, "I would rate the level of trust among the dozen organizations we were trying to bring together was initially a 1 or a 2 out of 10.
"There was a lot of skepticism."'
"They believed that Pinkerton was bringing them together – in part – to cut their funding. We had to reassure them that we were not cutting funding and that, in fact, we were talking about looking for additional funding opportunities."
Pulliam stated that after the initial meeting, after some level of trust was established, the collaboration has ultimately worked well. Over the first four years of the READS Initiative, they distributed more than 100,000 books to children.  There were other markers of success.
In one neighborhood, READS reached 11% more children than the previous year.
Family support was also important to READS success. In South Jamaica and East New York, from 2016 to 2017 READS has seen a 342% increase in the number of parents they have contacted.  There was also a 64% increase in the number of workshops and support sessions for parents and educators.
The most important gain was in reading level: Pulliam also reported that one school initially had 5% of its children reading at grade level. Last year, 47% of its students were reading at grade level. Another school began the program with 14% of children reading at grade level; last year that number rose to 48%.
Call a manager
For the collaboration to work, Pinkerton realized the effort needed a managing group to run the collaboration.  Pinkerton chose Literacy Inc (LINC). LINC was one of the original dozen agencies brought into Pinkerton's 2013 meeting. It ultimately became the central coordinating group for this literacy partnership, working with all the Pinkerton-funded agencies. 
Shari Levine, LINC's executive director, confirmed that there was a sense of nervousness and competition among the dozen agencies in that first meeting, which has now given way to true collaboration.  Today these formerly competing groups, regularly share and organize joint volunteer recruiting events.  Now, instead of competing for this scarce volunteer resource, they have built a large and more effective talent pool.  The number of tutors available to the collaborative has increased by 60% since its founding.
"What everyone needs to understand," Levine stated, "is that collaboration is more expensive than separately funding all the agencies."
Indeed, Pinkerton's investment almost doubled.  It began with 10 organizations and funding of just over $1.3 million in 2014 and grew to over $2.4 million in 2018.
A lesson of sharing and generosity
The bottom line and lessons learned for funders is that they will have greater impact when they can encourage good sandbox behavior.  Part of this success formula is generous funding.  As with READS, adequate funding will help dampen competitive fears among agencies.  It will encourage them to find new ways to partner – new ways to play together in the sandbox.
Funders need to model good behavior for the agencies they support.  In turn, nonprofits need to mirror this generosity in their own behavior.  They need to share information, share volunteers, and give each other the benefit of the doubt.  Sharing and generosity – and, ultimately collaboration – must become the operating model.
Nonprofits, please enjoy the rest of your summer. September and the beginning of school is just around the corner. Play nicely together.  Your funders will like that.    Move over and make room. Share your pail and shovel, please.  Your students will benefit from your joint efforts.